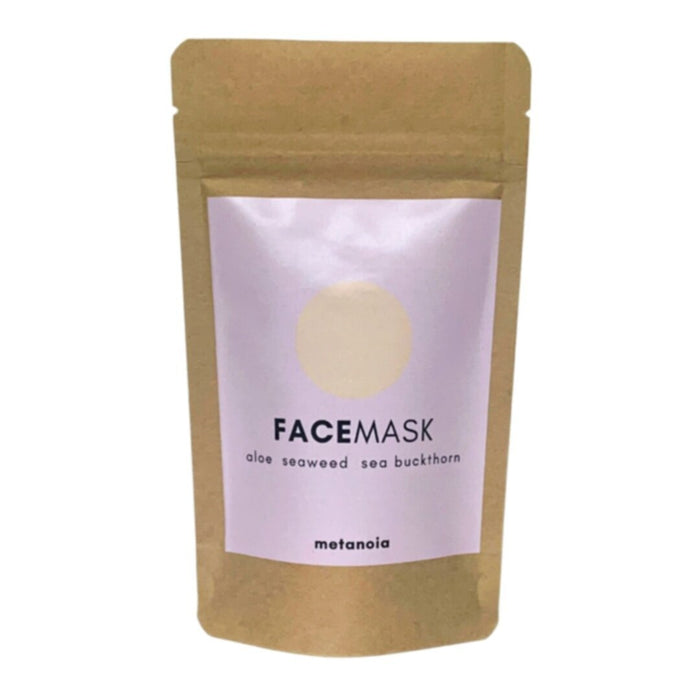 Metanoia Hydrating Face Mask
The Metanoia Hydrating Face Mask is designed for all skin types, to aid in your regular skincare ritual.  Use with Metanoia Breast Mask for a complete self-care experience.
BENEFITS
Reduces redness

Helps heal sunburns

Anti-aging

Anti-inflammatory

Deeply hydrating

Plumps skin

Fills out fine lines, wrinkles

Rich in minerals and anti-oxidants
INGREDIENTS
*All ingredients are organic or wildcrafted 
Aloe Vera

Anti-inflammatory

It supports the production and release of collagen

Speeds up healing

Reduces the healing time of first-degree and second-degree burns

An antioxidant effect that can help repair sun damage and slow down the aging process of the skin

It contains 98% water, which helps moisturize, soothe, and hydrate the skin

Promotes skin flexibility and suppleness

Cooling effect on rashes or sunburns
Seaweed
*Harvested from Haida Gwaii, BC. The quality is unmatched.
Cleanses and detoxifies.

Improves skin tone and pigmentation.

Increases hydration and trans-epidermal water loss.

Helps to balance oil production.

Delivers antioxidants to fight free radical damage.

Supports collagen production.

Helps to smooth out wrinkles.

Anti-aging

Anti-inflammatory
Sea Buckthorn
Promotes skin hydration, elasticity, cell regeneration

Helps treat and prevent acne

It helps to harmonize skin with the sun.

Packed with omega fatty acids 3, 6, 7, and 9, antioxidants, vitamins, palmitoleic acids, carotenoids, and phytosterols.

Complexion clearing