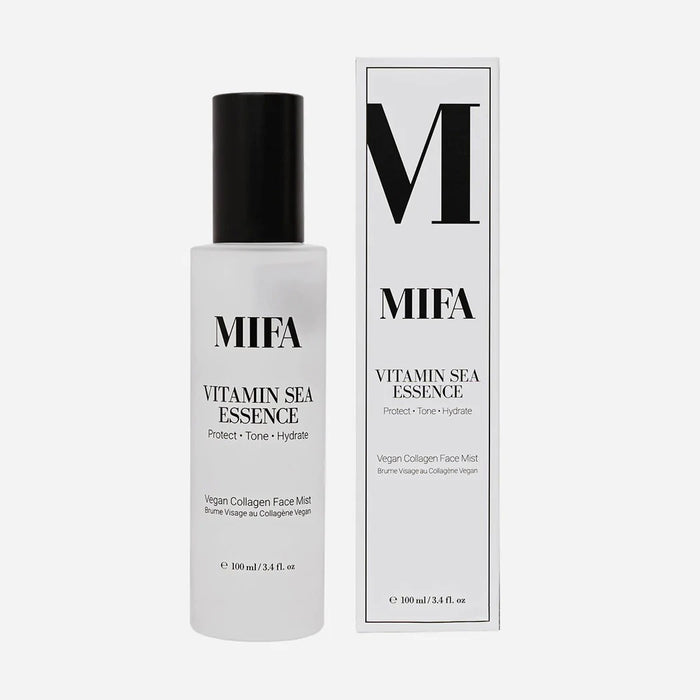 DESCRIPTION
MIFA's Vegan Collagen Essence face mist provides a powerful, weightless boost of vitamins and minerals that helps repair damaged cells and rejuvenate skin cells. The results: plump, deeply nourished skin.
Vitamin Sea Essence combines a lightweight feel with high-performing ingredients. Scented naturally with rose and neroli flower waters.
CONNECT WITH YOUR BODY
Ideal for all skin types, including mature and acne-prone skin. It can be used all-over on your face and body. This essence can also be used to rehydrate your face and makeup midday or just for a moment of relaxation.
YOUR SPA-AT-HOME RITUAL
Gently mist your face, neck, and décolletage in the morning and night post-cleansing as a toner, and follow with MIFA's All Over Skin Dew serum or All Over Oil.

DETAILS 

Our vegan collagen is formulated with mineral-rich marine actives of giant sea kelp and bioactive laminaria japonica (Japanese Seaweed), which deeply and effectively moisturizes the skin.
Natural vitamin C complex of hibiscus and broccoli extract. Hibiscus boasts high levels of vitamin C, which has been shown to help repair damaged cells.
Rose water is known to be an excellent aid to maintain a clear complexion, toning, and balancing your skin's natural sebum.
Antioxidant-rich neroli water and aloe vera help soothe and moisturize.

KEY INGREDIENTS

Vegan Collagen
Collagen Boosters