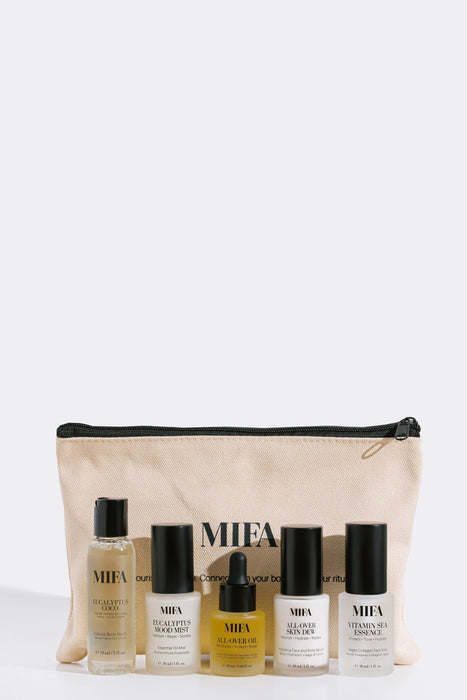 MIFA Daily Essentials Set
DESCRIPTION 
MIFA's Plant Based, Limited Edition 5-step Daily Essentials Set will make your complexion and your soul glow.
Experience a full-body sensory spa-at home ritual with the complete collection for balance, relaxation, and healing. This collection is BIG enough to discover the products you've been eyeing, small enough to travel with, or perfect enough to shower a loved one with a restorative gift. Giftable, loveable, and super adorable!
Each set includes a free reusable 100% natural cotton travel pouch ($10 value). All products are packaged in their individual boxes.
THE FULL SPA-AT-HOME RITUAL
Step 1
Step into a steamy shower. Restore your moisture and cleanse your body with The Eucalyptus Body Wash. Gently breathe in its purifying botanical scents before rinsing off.
Step 2
Take the Eucalyptus Mood Mist with you and create your own eucalyptus steam shower. Whenever you need a boost, spray this 100% natural essential oil spray around your aura (in or out of the shower). Feel your body reconnecting with the self and re-energizing.
Step 3
Hydrate your skin with the Vitamin Sea Essence Face Mist. Let its mineral-rich ingredients deeply nourish your skin.
Step 4
Lather your skin from head to toe with the All-Over Skin Dew.  A hydrating serum formulated with traditional botanical oils known to heal and repair your skin.
Step 5
Complete your self-care routine with the All-Over Oil. Locking in the moisture with a dose of 5 cold-pressed oils that will leave you with nothing but a radiant, natural glow.
SET CONTAINS: